Dinner –  Wednesday 26th February 2020 at Noura Belgravia
In aid of Sanad Society for children with special needs – with a focus on autism – in the Nablus region, Palestine.  About Sanad: Al Sanad Brochure
Sanad is a charity registered with the Palestinian National Authority since 2012.
With support from Basira  www.basira.org.uk
Entertainment – Spanish Guitarist & Flamenco Dancer
Dinner – three course dinner to include drinks
Time:           Drinks Reception from 6.45pm,  seats 7.30pm
Location:     Noura Belgravia (Lounge), 16 Hobart Pl, Belgravia, London SW1W 0HH  http://www.noura.co.uk/belgravia
Tickets:       £65, £600 for table of 10.  Please reserve your places through Paypal, button below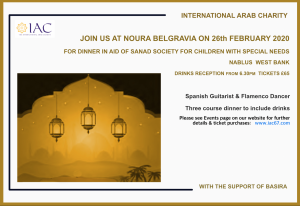 Dinner – Fundraiser for Iraq and Syria, Wednesday 25th February 2015
The IAC, in co-operation with Ciro's Pomodoro, cordially invites you to a fund raising dinner for the internally displaced people of Iraq and Syria.
Join us for an evening of delicious Italian food and Middle Eastern music by Samir & Kamran.
Dinner at £65pp.
Wednesday 25th February 2015, 7.30pm
UNRWA Gaza Appeal
The IAC is donating £10,000 to UNRWA's Gaza Appeal. We chose UNRWA as they have been on the ground throughout the latest assault, can effectively allocate resources, and charge less than 11% for their admin fees. People in Gaza are desperately in need of funds for the very basics – food, medicines and to rebuild their homes.
If you would like to add your donation alongside ours, please click on the Paypal button below and we will send all the monies to UNRWA in one lump sum. Every little helps.
Christmas Jazz Dinner – Fundraiser for Syria, Sunday 1st December 2013
We'd like to invite you to our Brazilian Jazz evening at the renowned 606 Club in aid of the refugees in Syria. The evening will feature Steve Rubie's 6 piece band Samara:
Seated 3 course dinner with a soft drink or one glass of wine at £60pp.
Sunday 1st December, 7.30pm
100% of all funds raised will go to the Red Crescent's Crisis in Syria aid programme.
Reception for the Palestinian Olympic Team at City Hall 25th July 2012
It was our pleasure to welcome the Palestinian Olympic Team to London a couple of days before the Olympics Opening Ceremony with an Iftar Reception. The event was organised by Murad Qureshi, Assembly Member, and sponsored by us.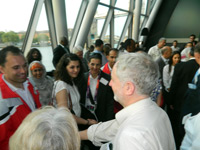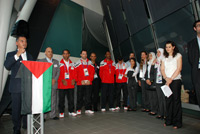 Alistair Burt MP, Minister for the Middle East and North Africa, on the Arab Spring Implications for the UK Foreign Policy – 14th November 2011.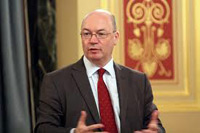 The talk and Q&A was held in the Foreign Office, Locarno Suite; reception 6 – 7pm.
Eid Al-Adha dinner at Noura Lounge on the 29th November 2009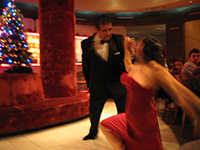 Featuring Tango singers and dancers, 3 course meal and Arab DJ.
Noura Lounge is at 17 Hobart Place, Belgravia, London SW1W 0HH.
Christmas Dinner on 13th December 2007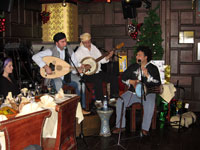 in Sidi Maarouf, Magharibia style. Hosted by two of our members Latifa Bouabdillah and Mounir Elarchi in aid of providing work training for Moroccan Street Children.
Eid dinner on 14th October 2007
in Maroush I on in the presence of several Arab Ambassadors. The proceeds from this event went towards IAC projects.
Dinner hosted by Mrs. Fawzia Beidas on 15th October 2006
a trustee of the IAC, at her home to fund raise for orphans in Gaza.
Fundraising lunch hosted by Mrs. Didi Khalil on 20th September 2006
to raise money for Gaza and Lebanon. Mr. Bari Abdel Atwan was the speaker and we contributed an additional sum of £5000 towards food parcels for Gaza.
Matar twins' fundraising event at No. 5 Cavendish Square, 13th August 2006
Many thanks to Hussein and Ali Matar for donating the proceeds from their fund raising event on the 13th August 2006 to the IAC to help Lebanon – £7010 was raised from the social gathering evening at No.5 Cavendish Square. The money was added to our own contribution of £10,000 and a total of £17,010 was sent to the Lebanese Red Cross.
Kasem Al-Sahir at the Royal Albert Hall on 14th March 2006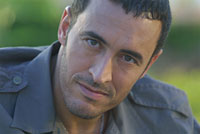 We cooperated with the Melkonian Foundation to bring the renowned Iraqi singer Kasem Al-Sahir to the Royal Albert Hall on ther 14th March 2006 and are pleased to report that it was a very well-attended evening.
Arab Film Festival Weekend to be held at BAFTA 17th-19th March 2006
Organised by Zenith Foundation ( www.zenithfoundation.com ) and hosted by BAFTA ( www.bafta.org ),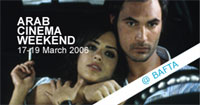 with the IAC as one of the major sponsors. The weekend will also feature a special memorial screening of "The Lion of the Desert" in honour of Mustafa Akkad.
Date:
17th-19th March
Venue:
at BAFTA, 195 Piccadilly
Booking:
tickets are £10 per film or £50 for a full festival pass. Please e-mail lubna@zenithfoundation.com to reserve your seats in advance
IAC members will receive a 25% discount on the normal ticket price of £10 discounted to £7.50 and 30% on full weekend passes of £50, discounted to £35
Eid El-Fitr – 3rd November 2005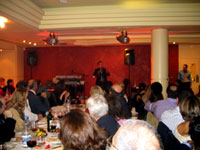 A "Sahra Arabia" with a Traditional Dress Theme to celebrate Eid El-Fitr marking the end of Ramadhan with Special Guest, the comedian Jeremy Hardy (pictured left) who brought life and laughter to the evening.
| | | |
| --- | --- | --- |
| Venue: | | Maroush V, 4 Vere Street, London W1 |
| Price: | | £30 for members; £35 for non-members |
His Excellency Amre Moussa, Secretary General of the Arab League – 12th September 2005
We were honoured that HE Amre Moussa, Secretary General of the Arab League accepted to give a lecture on THE MIDDLE EAST: PROSPECTS FOR THE FUTURE. This was done in conjuction with the Arab Media Watch (www.arabmediawatch.com) and the Arab Club of Britain (www.arabclub.co.uk) as three Pan-Arab organisations inviting the Head of the Arab League to talk about Arab Unity and was a rare opportunity to hear the views (as well as to put questions forward) on the future outlook for the Middle East from one of the most prominent and influential figures of the Arab World.
The lecture was held at Imperial College Lecture Theatre 220, Mechanical Engineering Building (free admittance).
For transcripts of the lecture and Q&A, please click here.
"Layali Babel" youth night – 23rd April 2005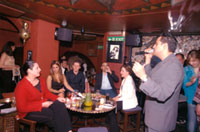 Another sell-out event. This was a fun-packed evening with music, DJ and fund-raising activities in aid of raising money for Iraqi children with disabilities. The proceeds were divided between the Kurdistan Children's Fund and the Dina Foundation in order to administer the funds effectively to the children in Iraq.
The event was held at Ayoush, 58 James Street, London W1V 1HG
| | | |
| --- | --- | --- |
| Price: | | £35 for members; £40 for non-members |
Shamsuna (Our Sun): a talk by Afaf Akrawi – 10th February 2005

One of our members, Mrs. Afaf Akrawi, gave an interesting talk shedding light on some of Mesopotamia's contributions towards world civilization.
This was held at the Kufa Gallery, London W2.
Eid Al-Adh'ha Party – 22nd January 2005
All proceeds from this function were dedicated towards our project to help the amputees in the Palestinian camps in Lebanon.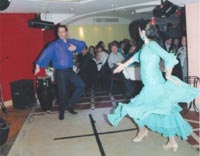 We are pleased to report that this was a successful event, both in terms of the funds raised and in terms of having an event that was well attended by a cross-section of Arabs, non-Arabs and well supported by our younger members who added much life to the party. Many thanks to all who contributed.
The dinner was held at Maroush 1 with Flamenco Dancers for our main attraction.
| | | |
| --- | --- | --- |
| Price: | | £45 for members; £50 for non-members |
Re-launch reception – 26th May 2004
We officially re-launched the charity under the working title of the IAC last May.
The reception was held at the Egyptian Cultural Centre with guest speakers including Mark Todd MP standing in for Baroness Simons and HE Afif Safieh. Over 400 people attended the reception, including several Ambassadors of Arab countries, diplomatic representatives of non-Arab countries, MP's, members of the House of Lords as well as film-makers and members of the media.