The IAC has broad objectives and we have been fortunate in that our projects have been varied covering humanitarian assistance, educational programmes and cultural events. Our projects have included:
Humanitarian
UNRWA Mental Health Programme for Children in Gaza:
There are roughly one million Palestine refugee children living under continued Israeli blockade in the Gaza strip, a 365 square-kilometer enclave, and are growing up amidst a decade of recurrent conflict, deepening poverty and increasing restrictions on movement. Most of Gaza's children have lived through three major conflicts in six years and have never been able to leave Gaza.  PTSD is a part of daily life for them.  This programme not only provided counselling for children in Gaza, but it also trained adults to be counsellors in order to help with mental health for both children and adults.
Kafr Yassif Science Institute: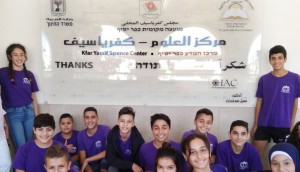 The exhibition aims to target around 200,000 elementary,
middle school and high school students in Kafr Yassif, Acre and the West Galilee area. Students are required during their elementary and middle school education to attend at least 2 mandatory visits to a science exhibition. In addition to the main target audience (the students), the Exhibition will aim to train a staff of teachers and mentors on various methods to integrate technology and science in the education process.
Construction of Wastewater Networks at Rafah, Gaza 2016: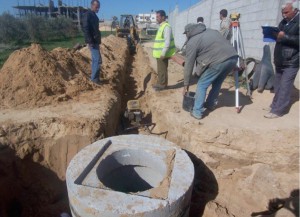 The project, partnered by the Wold Bank, aims to improve wastewater services for the targeted area Baghdad Neighborhood for around 5000 people and provide sewage discharge service for the area to protect inhabitants from epidemic diseases, eliminate the underground water pollution, and prevent wastewater floods resulted from septic tanks, where the collected sewage would be discharged to the existing Rafah treatment plant.
Convoy for North Iraq with the Syrian Orthodox Bishop in the UK:

The convoy was organised by the Syrian Orthodox Church, and supported by the Prince's Trust.  The aim of the convoy was to give aid, shelter, medical supplies, and much needed support for Iraqis displaced by hostilities.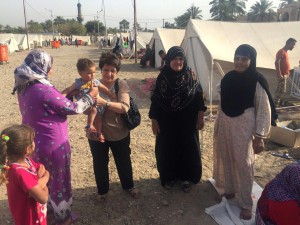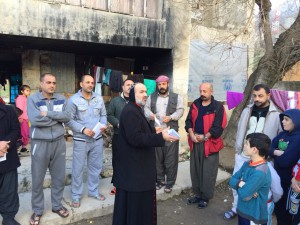 Visit to Syria in 2007:
Provided sponsorship for Women's Empowerment Programmes.  The trustees were also touched by "Hand in Hand", an organisation helping mentally disabled children.
Helping Amputees in Palestinian Refugee Camps in Lebanon: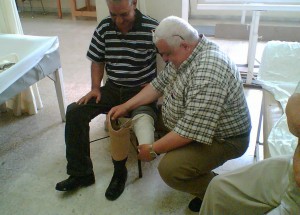 We set up centralised clinics that specialise for amputees – a one stop shop that will help them with funding, medical treatments, physiotherapy, rehabilitation as well as provide the limbs. We joined forces with Response International (www.hmdresponse.org.uk) who produced a 200 page proposal for us which was submitted to various funding bodies to finance the project. The project received $200,000 from DFID (Foreign Office) to establish the clinic.
Presentation by Oncologists for Medical Aid for Iraqi Children at the Royal Geographic Society:
We sponsored an oncological forum to show the shocking increases in cancers and birth defects since the first Gulf War in 1990 where the use of depleted uranium was strongly suspected.
Other Projects and Contributions:
Supporting the work of the Red Crescent which was managing to reach Syrian refugees delivering blankets and medical aid during winter months at a time when other organisations were struggling

we worked with MAP on projects in the West Bank and Gaza such as helping teenagers with psychological problems

providing aid for war-trauma victims from Iraq, Syria and Palestine with hospital expenses.

helping provide for several Iraqi families in Iraq on annual basis.

contributing to the Lebanese Red Cross for the 2006 war in Lebanon for emergency assistance.

giving to emergency appeals such as the Tsunami and Pakistan Earthquake disasters.
Educational/Training
The charity has run an Arabic language school in West London since 1976 which has helped to educate hundreds of UK based Arabic children in their mother tongue.  We employ 13 teachers with an intake of 180 pupils per annum.
Please see www.iacarabicschool.co.uk for details of our school.
Women's Training Programme, Syria: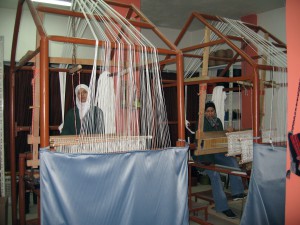 The Syrian Embassy organised for our trustees to visit Syria to promote women's training programs to help them integrate into the job market. Accordingly, the IAC sponsored a few of these projects to help women become more independent.
Work Training for Moroccan Street Children:
A fund raiser was organised by Moroccan members of the IAC to help take street children off the streets and giving them practical work experience such as training to become mechanics, carpenters etc..
Other programmes:
The IAC also sponsors Arab students to help further their education in the UK.
Cultural
Kadim Al Sahir at the Royal Albert Hall, 2006: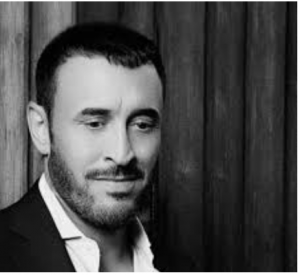 An event to bolster morale amongst the Arab community in the UK after the Iraq war, and also to fund raise for Iraqi children.  We were pleased to report the concert was a sell out.
H.E. Amre Moussa to lecture on the Prospects of the Middle East at Imperial College:
This was done in conjunction with Arab Media Watch and the Arab Club of Britain as three organisations operating MENA wide, inviting the Head of the Arab League to talk about Arab Unity.
Promoting Arab Films in London: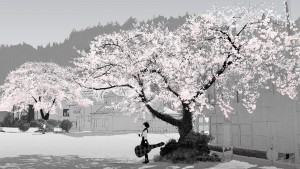 We have a continued commitment to promoting Arab films in London – we feel that as we now have a whole generation of young Arabs who have grown up in the West, it is more important than ever for Westerners to gain a sympathetic insight into the Arab perspective. We have sponsored the Zenith Arab Film Festival in BAFTA as well continuing to sponsor the annual SOAS Palestine Film Festival.
Community Events:
We regularly host fund raising dinners which help to foster the spirit of the community.  Please see our Events page for more details of these events.
Additionally the IAC works closely with other charities and organisations assisting them in their work.
We invite our members to come forward with any ideas for projects, events or fund raisers which are close to our objectives.